Parking versus walking. Mass-produced items versus one-of-a-kind finds. Supporting major brands versus supporting local makers and shakers. Not really that difficult of a decision in our opinion! The Arts Warehouse invites you to their Fall/Winter Market, where you'll be privy to the handmade, locally-made and excitingly-made items from all of your favorite and soon-to-be favorite artisans. 
"We've heard 'shop small' and 'support local' before when it comes to purchasing goods, but it is actually important," said Grace Gdaniec, Arts Warehouse Coordinator. "There are creative people ready to share their items and their inspired pieces to a customer they can actually connect with. I personally love giving a gift or adding something to my home knowing where it came from, and the hands that created it. We hope the Warehouse Market can provide those connections for the makers and community members. Not to mention it's a nice change of scenery from a mall or shopping online, too."
The Warehouse Market takes place over two days, with the first being a VIP Preview and the second being a Public Market. The VIP Preview event is held Friday, November 22 from 6 to 9 p.m., and your $5 entry fee gives you access to not only first pick at the goods, but also live music by guitarist Landon Heinrichs, caricature portraits, tarot card readers, light bites, cash bar, and the chance to have fun with roaming improv actors. There's also a lounge area for the non-shoppers, and kids 10 and younger get in free. If you can't make the Preview, make sure to stop by the Public Market on Saturday, November 23 from 10 a.m. to 3 p.m. and peruse the scene for anything that might strike your fancy. Admission is free on Saturday so that gives you more green for goods. Additionally, you'll be able to enjoy the exhibits and Artist in Resident Studios during both events.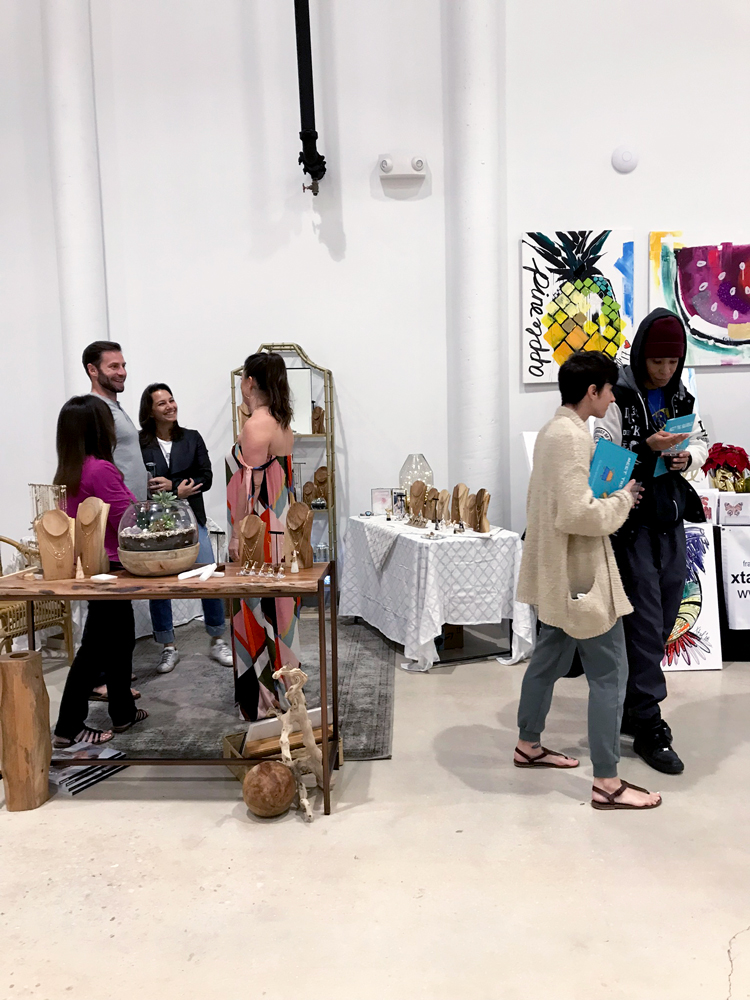 What's unique about this Warehouse Market is that a few of the staple vendors at the Warehouse will have newer pieces available, and since these makers create the products themselves, there may be a limited supply available. So if you're excited about the prospect of giving that special someone (you included) a unique, handmade and locally-made gift, this Market is for you. Not to mention, you'll be helping to support local vendors who are using their hands and creative minds to make a living. 
"The goal is to help those vendors reach a new audience and develop a relationship with new customers," said Gdaniec. "This may be the first time they have their products out in the public and not just on their Instagram or online store. Of course, it's a chance for visitors to get their hands on local, handmade and unique goods, and just in time for the holidays."
The goal of the Arts Warehouse is to provide a space for local/not so local makers and creative entrepreneurs to showcase their wares, and in a weatherproof and air conditioned environment, to boot. The Warehouse programming fulfills the CRA's mission because it's supporting small business owners by providing a location, even if it's temporary, for them to showcase their products and gain more awareness for their brand. The Market is activating the Warehouse space that was redeveloped with events and opportunities like this in mind.  
The fall/Winter Warehouse Market will feature about a dozen vendors, with only a few returning from the previous market, meaning the it's mostly new, yet all so good. You can expect to find jewelry, fiber works, photography, embroidery, candles and body oils, clothing and more. The vendors are hand-selected so the Market is interesting and features items that are unique, well made and diverse. A few of the resident artists will be featured, including Amanda Perna.
With everything that the Arts Warehouse Winter Market offers — including unique goods, a fun environment, one-on-one time with the makers, and more — it's almost a no brainer. So move over mall and generic goods, there's a new shopping experience in town.