It's been a long eight months, but the Arts Warehouse has officially reopened! Due to the coronavirus pandemic and a concern for everyone's safety, Delray's favorite gallery and art hub had to close its doors. But, like any good artist, the Arts Warehouse team's hands weren't idle, and they spent the time improving and rethinking their efforts.
While the pandemic took everyone by surprise, the team started 2020 strong and are determined to end it strong. The restrictions gave them the ability to rethink how they want to engage their community, as well as re-evaluate what information and content they wanted to provide. It gave them the opportunity to step back, take a closer look, and reignite their art fire. They focused on their message and outreach, with a goal to make sure the community and online followers knew they were still around and had a lot of art and information to share. If they were busy before, they were even busier now.

Virtual Gallery of VISUAL VOICES
"We quickly moved as much as we could to a virtual platform, primarily the AW website, Instagram and Facebook. For instance, we had just opened a new exhibition VISUAL VOICES at the beginning of March, and creating a virtual gallery for that show was the first step. Website visitors were able to view each piece in the exhibition online, along with the descriptions and even wide shots of the gallery to get the feel of being in the space," said Grace Gdaniec, Arts Warehouse manager. "The Resident Artist Gallery, featuring available works by the resident studio artists, was a new endeavor developed during closures, and one that will definitely continue on. The online resident gallery is an opportunity to showcase the work of the resident artists, and particularly work that is available and for sale. Arts Warehouse did not take any commission of any works sold through the resident gallery, as a means to help the resident artists more. This gallery is also continuous exposure for these artists."
Additionally, the scheduled art workshops, "Intro to Creativity," turned virtual through Zoom and were very successful on the digital platform. They even offered art supplies through curbside pickup for local attendees, which was a great way to engage community members who definitely needing something positive to do during the pandemic. They also really kicked up the video content for the Arts Warehouse and created not only virtual Art Walk videos offering a tour of the exhibitions and studios, but also DIY projects for artists and creatives at home (which was super helpful for those who were quarantining!) and even an artist talk.
Since April, they've been able to send out an E-Newsletter at the beginning of every month as a way to welcome guests in for the art walk, even though they couldn't physically be present. The videos included video studio tours, resident artist updates, and a link to the resident artist gallery, and will be carried forward even though the art space is now open. As far as programming, you can expect to find the same offerings as before, and even more! While it might look a little different, including less attendees per event, social distancing measures in place, or totally virtual events, the artistic benefit is still vibrant.
"I'm hopeful for Arts Warehouse to continue to build an artistic community of artists, and art appreciators, through programs in person and online. Our goal in 2020 was "visibility" spreading the word that Arts Warehouse is here and part of a vibrant arts community in Delray Beach," Gdaniec said. "I hope we can showcase artists who have not been shown in the area before, exploring themes and mediums that are contemporary and relevant, and welcoming people to learn and express their creativity through workshops and other programs. I hope that the resident studio artists can find success in their arts business with more professional development workshops back on the calendar. Overall, picking up where we left off, which was a great place to be! These are still unusual times that we're living in. Viewing art is a perfect break, whether in person or virtually."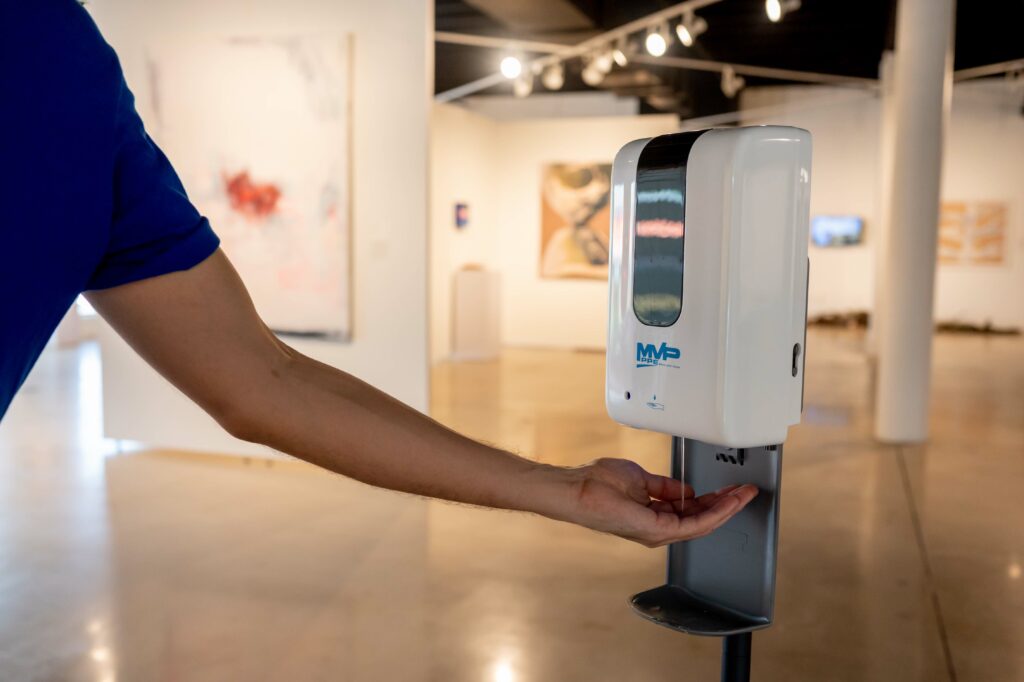 The Arts Warehouse opened up for the season on Friday, November 6 with the First Friday Art Walk and are hosting two group exhibitions, one in the front gallery and one in the back gallery. Moving forward, the new hours of operation for the public is Thursday and Friday from 10 a.m. to 7 p.m., and Saturday from 10 a.m. to 5 p.m. There is also the opportunity to visit by appointment Monday through Wednesday as well. While the team is excited to open up the space, they are doing so "gently."
"The goal is to be able to reach and share to as many people as possible. It was a time to research, plan, and set new goals for Arts Warehouse for whenever we would re-open," Gdaniec said. "Now that we're at that point, it's a matter of regaining the momentum we had in early 2020, but by being smart, safe, and engaging audiences in new ways – in person and online. We've received really positive feedback about the virtual/video engagement over the last eight months."
So expect great things moving forward from the Arts Warehouse team. They have always worked to make local art and local artists accessible, which was even more important during a pandemic. While their doors might have been closed, their creative minds were open and have yielded additional opportunities for those near and far. Now, that is beautiful.