States across the country have been inundated with roughly 26 million unemployment applications ever since the coronavirus pandemic began earlier this year. Needless to say, this has not only wreaked havoc on community members who have lost their job and are in need of reemployment assistance, but has also delayed the filing, reviewing and receiving process of these applications at the state and federal level. This is where the Delray CRA has jumped in to provide all the assistance it can.
In an effort to help unemployed Delray citizens file for Reemployment Assistance Benefits (formerly known as Unemployment Compensation), the CRA has created and placed reemployment boxes throughout the City. These boxes will house the Reemployment Assistance Application in paper form. The instructions for completion and the applications are printed in English, Spanish and Creole.
"We understand that not everyone has ready access to the internet or a printer in their homes. With school and the Delray Beach Public Library closed, access is further limited," said Christine Tibbs, Delray Beach CRA assistant director. "We wanted to provide a way for all individuals who need a reemployment application with an easy, contact-free way to obtain one."
The boxes were installed on Friday, April 24 and will remain in place for as long as necessary. There are currently six boxes installed outside of the CRA Office (20 N. Swinton Ave.), Arts Warehouse (313 N.E. Third St.), Delray Beach Visitor Information Center (2 S. Ocean Blvd.), Greater Delray Beach Chamber of Commerce (140 N.E. First St.), Pompey Park (1101 NW 2nd St.), the Delray Beach Community Land Trust office (145 SW 12th Ave), and outside City Hall near the Building/Development Services Building entrance (100 N.W. First Ave.) There are two additional boxes waiting to be installed at other locations in the CRA District.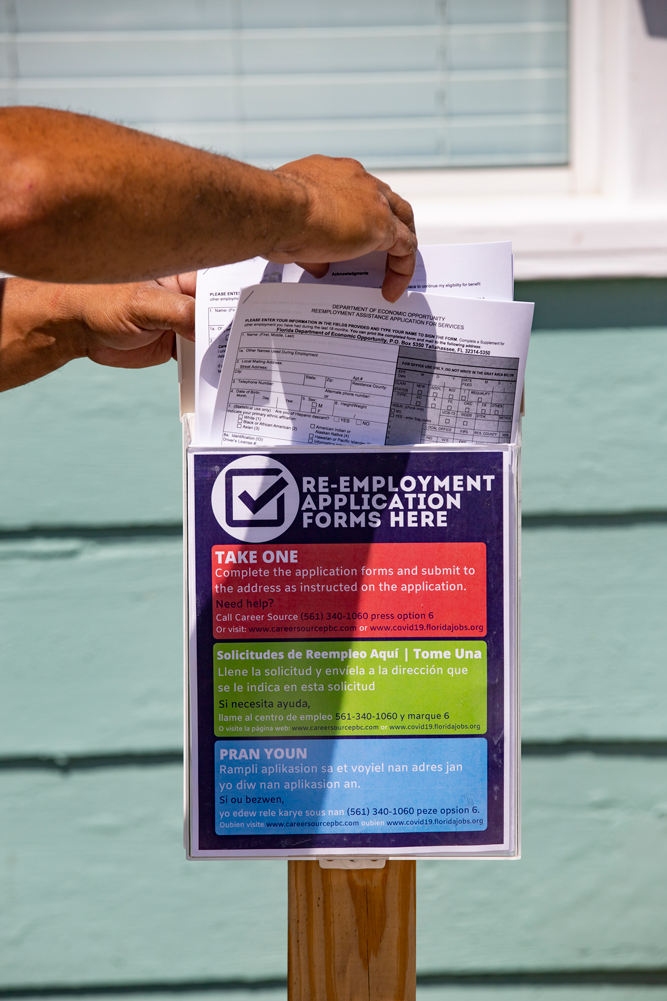 Copies of the applications will be regularly replenished and anyone is welcome to pick up a form.
In addition to providing these boxes, the CRA also continues to compile different types of resources and assistance currently being offered locally and nationally, and will list these helpful links on their Delray Beach CRA COVID-19 Resource Webpage. The goal is to have information that is more readily accessible to those community members in need.
"The CRA's redevelopment mission is carried out through a multitude of activities designed to revitalize not only the physical environment but the economy as well," Tibbs said. "We hope the boxes provide an additional way to access reemployment assistance during this time."
The instructions given on the boxes invite community members to take and complete the application form, and submit it to the address as instructed on the application. If help is needed, community members can call the Career Source at (561) 340-1060 (press option six), or visit www.careersourcepbc.com or www.covid19.floridajobs.org.
The location of the four additional boxes, as well as any assistance updates, will be promoted on the CRA's website and social media pages. Together, and with the CRA's help, Delray residents can not only claim their assistance benefits, but can also claim their future.