To see change, one must be the change. And that is exactly what CRA Board Chair Shirley E. Johnson is doing. 
"The Delray Beach CRA was reorganized in 2018. At that time, the sitting City Commission became five of the CRA members and two City Residents were added to complete the Board. I was one of the City Commissioners at that time. The previous CRA Board was comprised of appointed volunteer residents," said Johnson,  a retiree who devotes practically all her time to serving the City of Delray Beach. "And while work was being accomplished, the City Commission felt that in order to concentrate on a more rapid elimination of slum and blight and redevelopment, it might be best to take on the tasks itself. This change was in keeping with the national trend wherein the elected officials are solely responsible for this organization. We (the City Commissioners) are now in a position to not be able to blame the CRA for lack of progress because WE are it (the CRA)!"
While she finds that all of her projects are exciting, the most difficult and challenging so far is the 600 to 800 blocks on West Atlantic Avenue. She feels that if the present Commission is allowed to continue its work, the objective of bringing vital services to one of the oldest and largest areas in the community will be accomplished. It is her determination to do all within her abilities to deliver much-needed services to the portion of this downtown area of the CRA District that is most deserving on the benefits. 
"Being a part of the CRA Board is filled with responsibility. The ability to change and to shape a part of the City is humbling," Johnson said. "If you get it wrong, there may not be the opportunity to make it right. When my term is ended in March 2023, I would like to be able to point to as many changes as possible and feel that I played a major part in what is now a benefit to the entire City and not just the eight CRA Districts."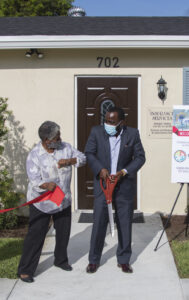 She feels that the work she and the other Board members are doing is supporting small businesses and investing in helping to improve the private property of homeowners, and that Delray continues to grow through private development and with CRA projects. While she says that her biggest excitement is the change and work being performed in the Northeast, Northwest, Southwest and Southeast neighborhoods, there is no one project that she can point to with great satisfaction. Her service ends in a couple years and she is hopeful for the future and what she can continue to accomplish. 
"The main responsibility of any Chair is to maintain proper order and an environment at meetings so that the vital business will be accomplished. Chairs of any organization should be respected for their fairness, ability to lead and influence, and they should never be accused of tyranny or favoritism," said Johnson, who settled in Delray with her family in 1956 and, after a brief period of relocation, returned in 1997. "She should never feel intellectually superior to the Board/Staff/Community. Fellow Board members' respect is mandatory in being a successful Chair."
Additionally, her goal is to always support, provide guidance and promote the objectives of the CRA wherever possible. She believes that Renee (CRA executive director) and her staff are doing exactly that, and as the City develops and the tax increment financing grows, the Board's responsibility is to guide the Agency's mission until it is sunset. 
"Time is finite and development is long and difficult. Wrong choices make redeveloping more difficult and time consuming. The objective is always to promote the right project at the best location for so many reasons. The pressure to do so is enormous. Making the right choices is my largest responsibility," Johnson said.
In her downtime (as if she has any!), she's spending time with her longtime husband Arnold Johnson, Jr. and their two children and three grandchildren. Also, she has a never-ending stack of books and magazine articles to tackle in her constant pursuit of educating herself about everything. Lucky for us Delray citizens, while her passion might extend beyond Delray, it's rooted in the CRA District. 
"I grew up in Delray Beach and it is my greatest desire to give back to my City. Being on the CRA Board allows me the ability to serve and to advance the development of Delray Beach," Johnson said. "I am honored beyond words for this chance to express my gratitude. Thank you to everyone who has supported me with your votes, a second term, your counsel and forgiveness of my human errors. We could not have achieved what gains have been made without all of you."