Improving Retail Office Space on Fifth Avenue
Thanks to the Delray Beach Community Redevelopment Agency (CRA), two projects on Northwest Fifth Avenue are growing with the City and its residents. If you're familiar with the vacant and soon-to-be brand new building located at 98 N.W. Fifth Ave. and 95 S.W. Fifth Ave, respectively, get ready for some much-needed and welcome improvements. 
Both projects will provide local business owners with office space at an affordable rate, which helps to achieve the CRA mission of eliminating slum and blight within the CRA District and to encourage private development. Additionally, these improvements will help to meet the much needed demand for affordable rental office space and to encourage economic development and activation of the area.
The Northwest Fifth Avenue project will provide interior and exterior renovations and to an existing 7,903-square-foot, two-story building that has been currently vacant for several years, bringing it up to all applicable codes, including ADA compliance. The current building offers ground floor parking with apartments on the second floor. 
"The renovated building will be an asset to the area, providing a new look and functionality to the building, new lush landscaping, additional lighting for safety and additional parallel parking," said Tara Toto, redevelopment manager for the CRA. "The renovation will include repurposing the building to include retail space on the ground floor and office space on the second floor."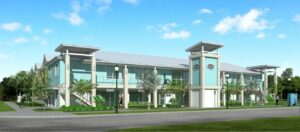 The Southwest Fifth Avenue projects is currently a vacant parcel, with the exception of a small paver parking lot. The proposed project includes a construction of a 9,981-square-foot, two-story office building with the masonry, modern-architectural style. 
"This project is important to the community because it will provide a brand new, freestanding two-story office building with on- and off-site improvements, providing the much needed demand for affordable rental office space, and encourage economic development and activate Historic Fifth Avenue," Toto said. 
Both areas are included in the City's plan for redevelopment as part of the West Atlantic Avenue Commercial Corridor, and are set to begin construction this year and completed in 2022. This evolving commercial district is in the area of West Atlantic Avenue and Northwest/Southwest Fifth Avenue, where new ethnic restaurants and shops are emerging to serve local residents as well as the overall population. 
For a City that is constantly growing and meeting the needs of its residents and small business owners, these projects will provide much needed retail space in an emerging part of West Atlantic Avenue. Thanks to the CRA, growth is happening, and exciting!