Grab your reusable totes, sun hat and favorite four-legged friend because the Delray Beach Winter GreenMarket is back and everyone is invited! If you're looking for a Saturday morning hot spot where you can visit with your neighbors, take advantage of all the local goods from local vendors, and enjoy some fresh air and live music, look no further than the GreenMarket. 
"Most of us long for the good old days when neighbors didn't lock their doors and everyone had a smile on their face. If you've been to the Delray GreenMarket you will find that same innocence and sweetness every Saturday from 9 a.m. to 2 p.m. ," said Lori Nolan, GreenMarket manager. "Now in its 26th year, this fresh foodie heaven is flanked by local farmers and bakers who bring their culinary treasures each Saturday to the grounds of the Cornell Museum on N Swinton and E Atlantic Avenue. The Delray GreenMarket is a slice of paradise with over 50 local South Florida vendors who bring home grown veggies, herbs, fruits, local caught seafood, farm eggs and fresh baked goods. There's also luminescent flowers, orchids, fresh pasta, sauces, artisanal French cheeses, teas, jams and more."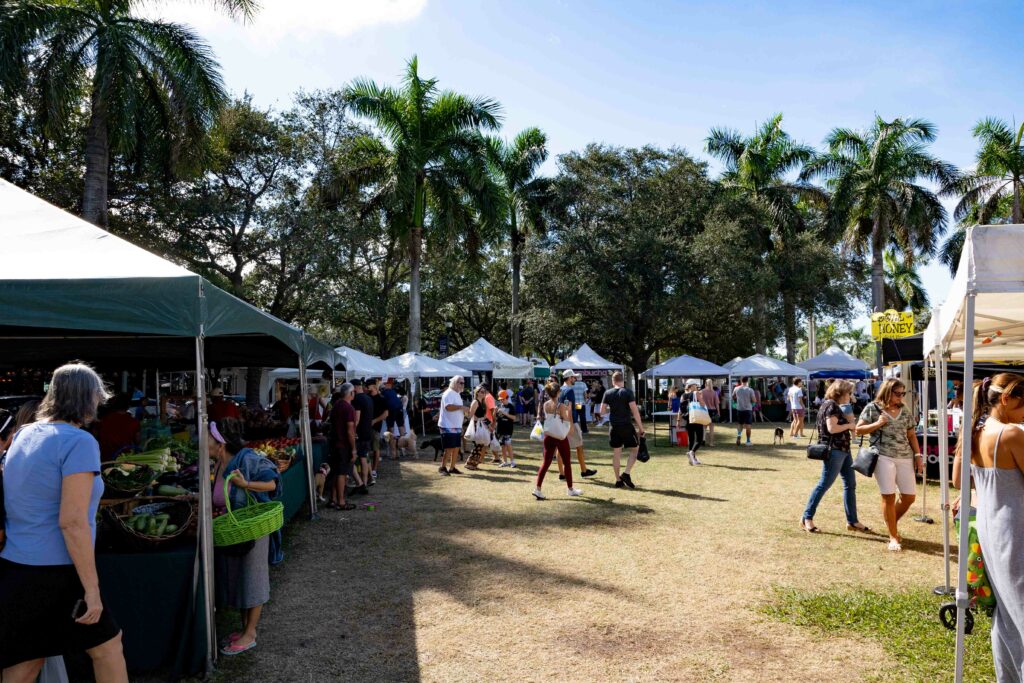 As you can see, there's something for everyone! Regardless if you're stopping by the GreenMarket to eat or to get provisions for cooking at home, you're invited to kick back and stay awhile and enjoy a tasty libation. A recent addition to the GreenMarket is a full bar in front of the Cornell Museum that offers Bloody Mary's, mimosas, craft beer and more. There are also local musicians who serenade guests with upbeat and soothing music from blues, to jazz, soft rock and classical.
"The GreenMarket is a place where the true meaning of joie de vivre plays out in a symphony of good vibes," Nolan said. "Residents can enjoy the music, gather fresh food to take home and cook, or just enjoy the idyllic scenery and groove to the music. Good times are always on tap!"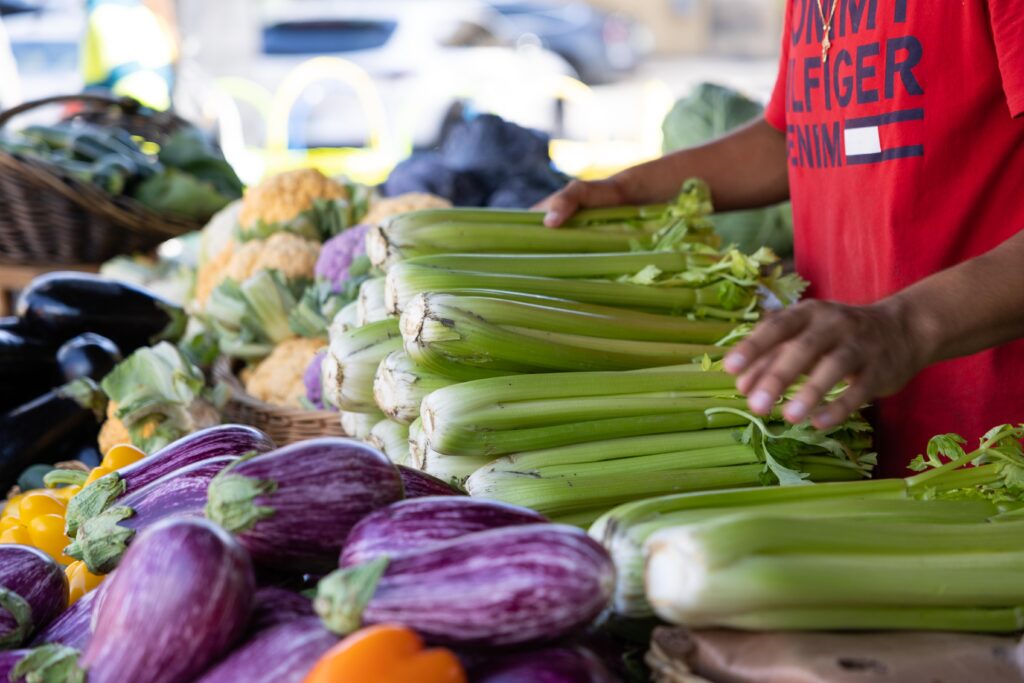 As always, it wouldn't be the Delray way without celebrating our long-term community members and businesses. Captain Clay & Son's Fish Market (Clay is a Delray legend) brings fresh, locally-caught seafood that ranges from pumpkin swordfish, snapper, hog fish, shrimp, stone crab, smoked fish dip and more. Gratitude Garden has an organic farm in Loxahatchee that grows the most sought-after organic mushrooms, herbs, turmeric elixirs, and an assortment of greens and vegetables. Starz Bakery continues to wow guests with New York-style baked goods, fresh breads, bagels, danishes and other tasty bakes. Red Splendor Farm, led by rising-star professional chef and now farmer Chef Dan Ramos, grows Chinese herbs and leafy greens such as Longevity Spinach, a semi succulent leafy vegetable, that can be mixed with salad greens or tossed in soup or stews or the perfect crunch for sandwiches. Be sure to check out his herbal teas that he develops from scratch with his own herbs! 
If all of the shopping and perusing gives you an appetite, take advantage of the freshly prepared foods on site, which include paella, ceviche, chicken on a stick, empanada's, barbecue ribs and chicken, Maryland crab cakes, acai bowls, fresh juice, smoothies and more.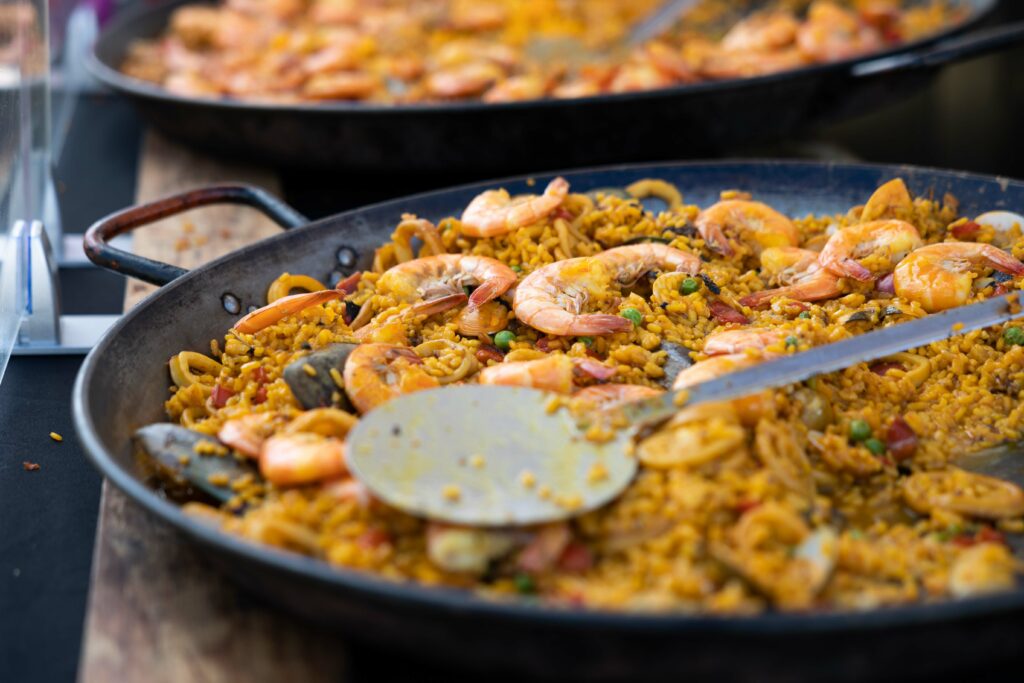 "The GreenMarket has evolved over the years from its beginning in 1998 when it began as a small Farmer's Market in the CRA parking lot to what it is today, which is a vibrant Saturday morning full-on food experience," Nolan said. "I hope the GreenMarket continues to flourish and supply our community and visitors with fresh local fare and a sense of community for many years to come."
If you're not walking or biking to the GreenMarket, be sure to take advantage of free parking next door in the City parking garage until 4 p.m. Children can also enjoy an on-site playground, and there are also on-site bathrooms as well. During the holidays a 100 ft-Holiday tree stands majestically on the grounds alongside Santa's house, a Carousel to ride and an ice-skating rink and miniature golf course.
There's so many amazing ways to take advantage of the Delray Beach Winter GreenMarket, so make sure you visit and repeat!