What started as an effort to meet his neighbors and investigate the diversity of his wonderfully mixed neighborhood, has now turned into an exhibit at the Arts Warehouse, unlike any other body of work that has been shown before. 
"I began painting portraits during the early stages of the COVID pandemic. The acrylic sketches progressed from those of people in my immediate household to individuals I slowly came into contact with as my sphere of meetings expanded," said Neal Hanowitz, who recently relocated to Delray. "The earliest pieces were portraits of family and neighbors, then delivery persons, infrastructure improvement workers, lifeguards (once the public pool opened), and finally to people randomly met while shopping or doing daily chores."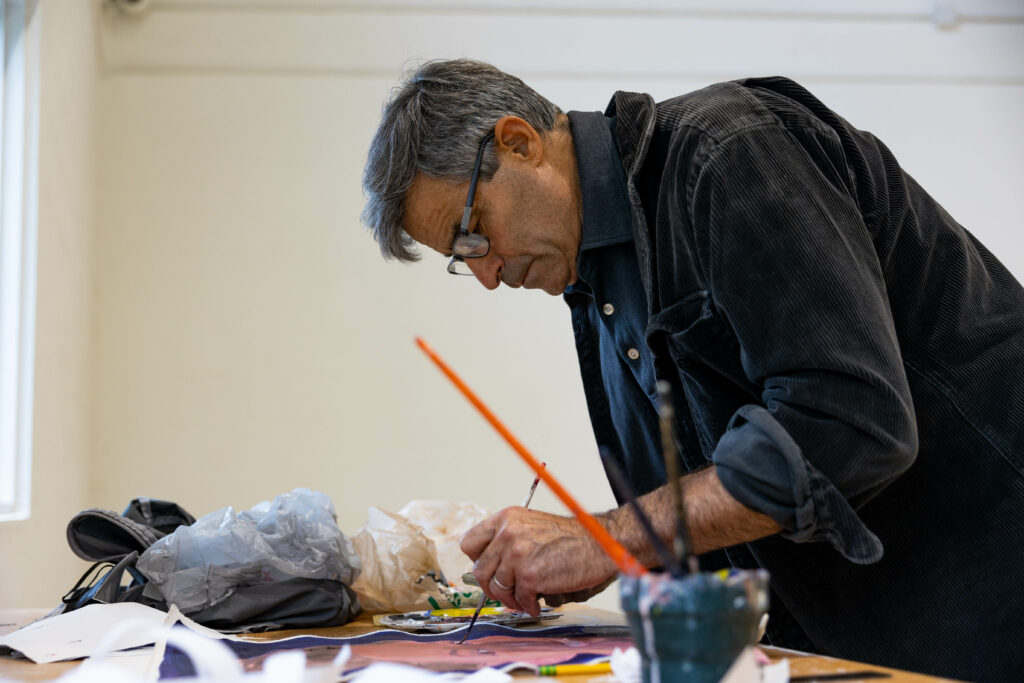 Once his portraits reached about 50 local community members, he reached out to Grace at the Arts Warehouse and, well, the rest is (living) history. 
"Neal submitted the exhibition proposal for consideration, as many artists do, to my email inbox. I was interested in learning more almost immediately after reading his email which mentioned briefly that he was painting portraits of people he was encountering in his neighborhood of Osceola Park. Osceola Park is a local neighborhood in Delray Beach, that I am familiar with particularly because it falls within the CRA district," said Grace Gdaniec, Arts Warehouse manager. "I invited him in for a meeting to learn more about the project, and the goal for it moving forward. After hearing more about the process, and seeing a few dozen of the paintings in person, I was excited to offer an exhibition opportunity at Arts Warehouse. This body of work is unlike anything Arts Warehouse has shown before, with its local origin and interesting ties to community members."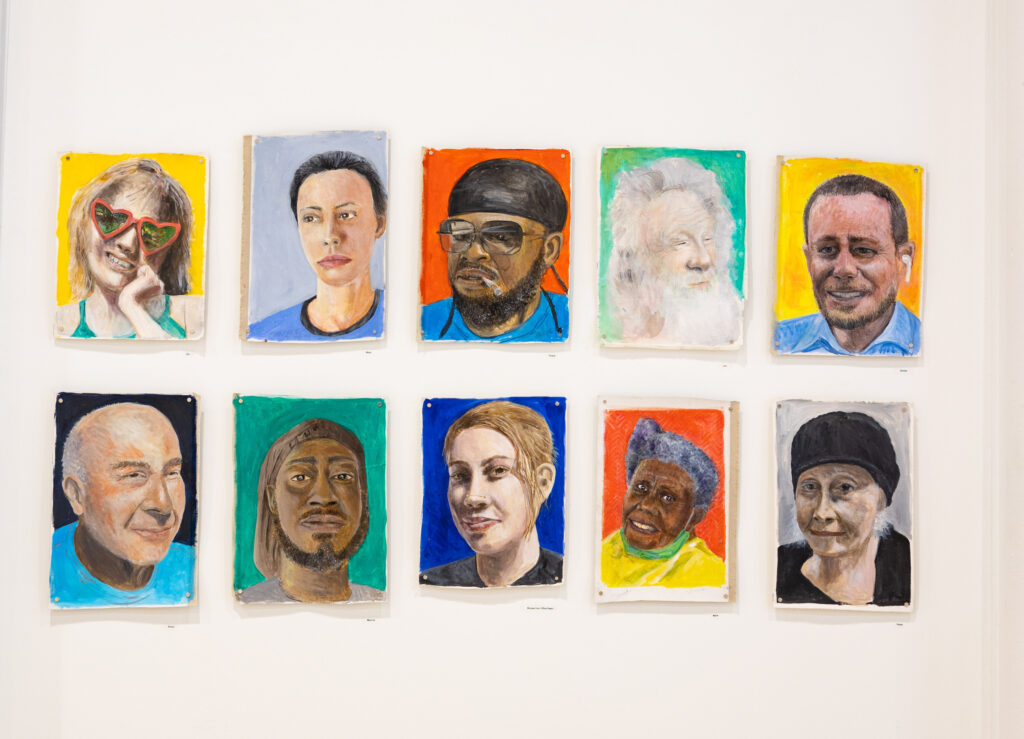 The exhibition, titled "Neighborhoods: Intersecting Encounters," will be on display through February 26 in the Back Room Gallery, which is the largest space at the Arts Warehouse. Neal will even be continuing to paint more people in his neighborhood, which has now expanded to people he is meeting connected to the Arts Warehouse and the arts community. Another part of the exhibition is an interactive self-portrait area where visitors are invited to create their own self portrait using the art materials provided in the exhibition space. The drawing can then be hung on the self portrait wall within the gallery, as an extension of the show. So it's an exciting opportunity for all community members! 
"Supporting local artists, supporting and sharing a set of artwork that has an interesting backstory and motivation – especially when inspired by the local people of a specific neighborhood – and being able to share that with our visitors [helps support the Arts Warehouse mission]," Gdaniec said. "This is a socially driven project for Neal. He is readily able to share a quick story about each portrait – how they met, who they are, and what their interaction was. It's an impressive memory and a nice addition to the project. When looking at the wall and seeing all of the portraits together, you immediately get a sense of the variation in people, by age, sex, race, and even their expression. It's a snapshot of a neighborhood that I think is reflective of a larger conversation about the diversity of our area. And it's special to think about how each person is now connected through this artist and his set of portraits."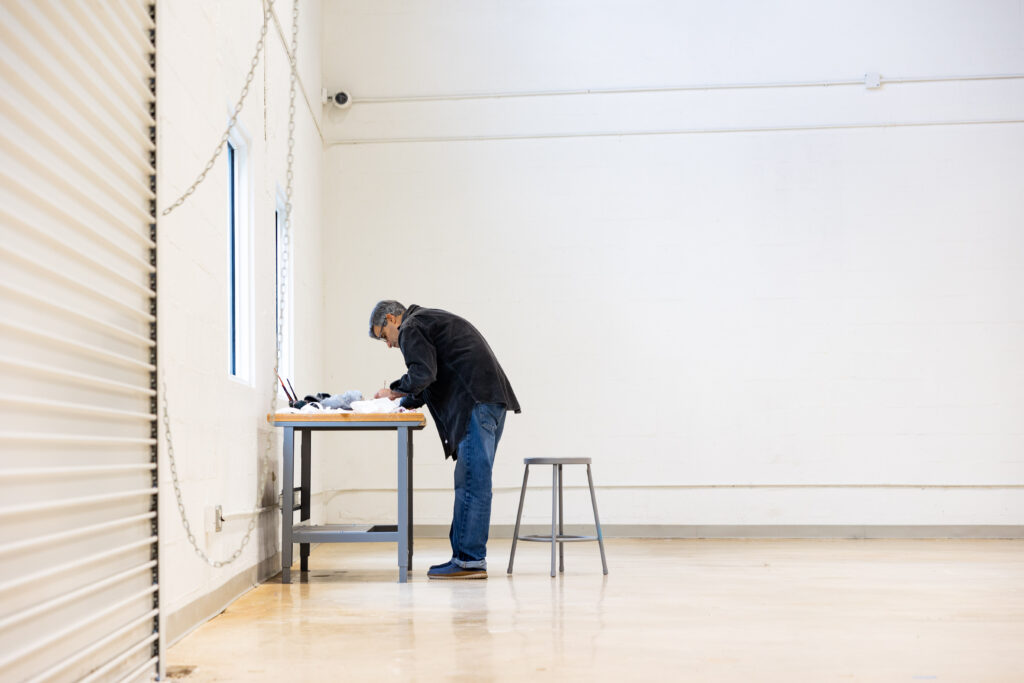 And also how Neal uses art to connect with his new neighborhood. Neil studied at the Academy of Fine Arts at the Pratt Institute, and after a short stint as a studio assistant to a few notable artists and many years struggling to survive in New York City, he became a high school art teacher in the U.S., Switzerland and Myanmar, with other various projects in other countries over a 27 year period. Regardless of where he was, he always drew people wherever he landed. Now retired, and happily calling the Osceola Park Neighborhood home, he is fully devoting himself full time to painting. 
"I most of all enjoy celebrating the diversity of extraordinary people who often go about their daily lives unnoticed by the strangers they encounter. I appreciate noticing each and every one of them, who are no longer strangers, by the way," said Hanowitz. He also included that many of the people in this exhibit have never had a portrait completed of themselves, so it should be really special for them to see themselves on the gallery wall. 
Hanowitz will be offering workshops at the Arts Warehouse, as well as on-site painting several days a week while the show is up. His goal is to reach 100 portraits for this exhibit, and in the future hopes to secure a few commissioned works and hopefully more exhibitions.