The Delray Winter GreenMarket Hosts Seven New Vendors This Year!
If you've been to the Delray Winter GreenMarket this season, then you've surely noticed the host of new vendors we're proud to announce! Not only are we celebrating our 27th season, we are celebrating the local vendors who make the GreenMarket what it is every year, which is the best local Saturday market in town. Here are some of the newest GreenMarket vendors that we'd like to shine a light on so you can welcome them at your next visit.
Palm Beach Cider Donuts
Smell that? It's not your average donut, it's a cider donut! Palm Beach Cider Donuts is offering the Delray community the best cider donuts in the area. They declare that they are the "humble ruler of the Kingdom of Donutopia, sharing the joy of majestic, fresh mini Palm Beach cider donuts with all the lands near and far!" so you know that they're some magic behind their dough. Just try it for yourself, and tell all your friends.
Palm Beach Salt Co.
If you're in the market for hand-harvested pure sea salt, look no further than Palm Beach Salt Co. You're invited to experience the true flavor of Palm Beach via briny and clean salt with a slight sweetness. They offer 100% all natural mineral-rich sea salt, free of any chemicals, dyes or anti-caking agents. It's the way salt was made and enjoyed since the beginning of time, and it's available right in your backyard.
Firenze Olive Oils
Firenze International Olive Oils was launched in 2014 with a mission to provide customers with the highest quality, best-in-class, extra-virgin olive oils, vinegars and condiments from across the globe. You're invited to "Buy It Often, Use It Liberally, Enjoy It Thoroughly" and come back often. The company was born of a desire to share founder Donna's love of Italian cooking, ingredients, and methods that she learned through day-by-day cooking with her Italian grandparents, then feasting on the humble but always delectable results. Now, she shares her story with you, courtesy of olive oils and more.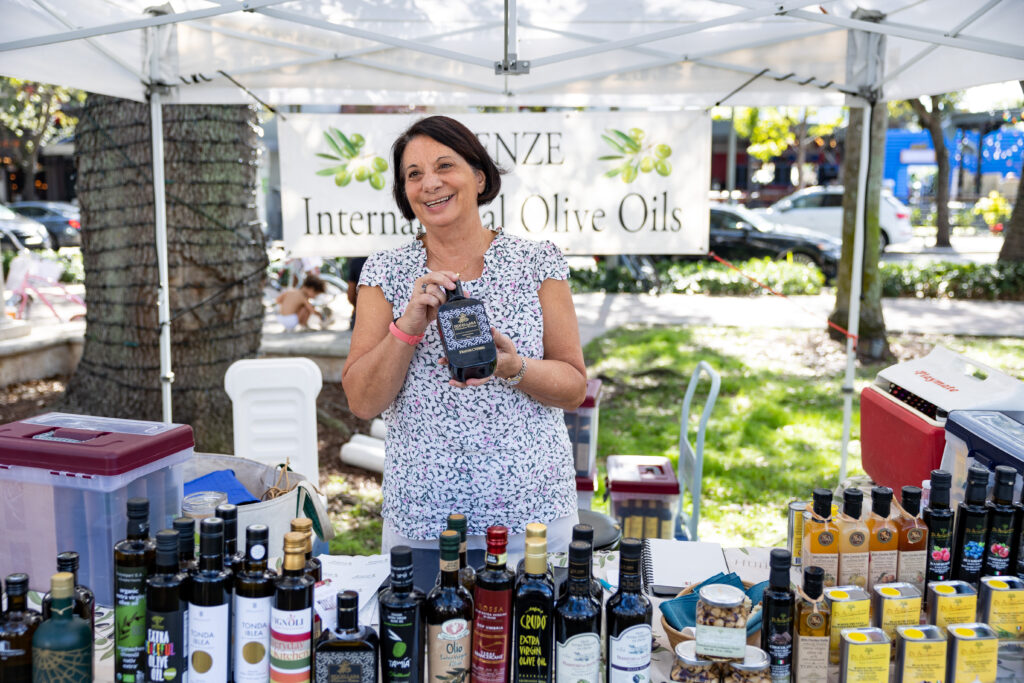 Poblano South Smash Burger
Come hungry, leave happy. The founders of Poblano South Smash Burger are in the flavor game focusing on brining unique and new flavors to South Florida so family and friends can enjoy quality and comfort food, right in our own backyard. They take pride in the flavor of each bite, and not just the individual pieces – bread, meat, cheese – which won them the 2021 SOBEWF Best Bite. The Smash Burger features house ground brisket, chuck and pork chorizo patty, American cheese. bread and butter pickles, caramelized onions, and a Gochujang buttered potato bun. Yep, it's a must.
Sweet Marie's Waffles
"Welcome to Sweet Marie's Waffles, where DELICIOUSNESS IS WRAPPED IN A WAFFLE!" They're not dishing out your basic waffles, it's all about elevating the waffle with other ingredients and rolling all the flavors together. You can expect to enjoy sausage, egg and cheese, jerk or curry chicken, banana and Oreo, or gluten free shrimp and cheese, among others. It's the best version of the waffle you have yet to eat, guaranteed.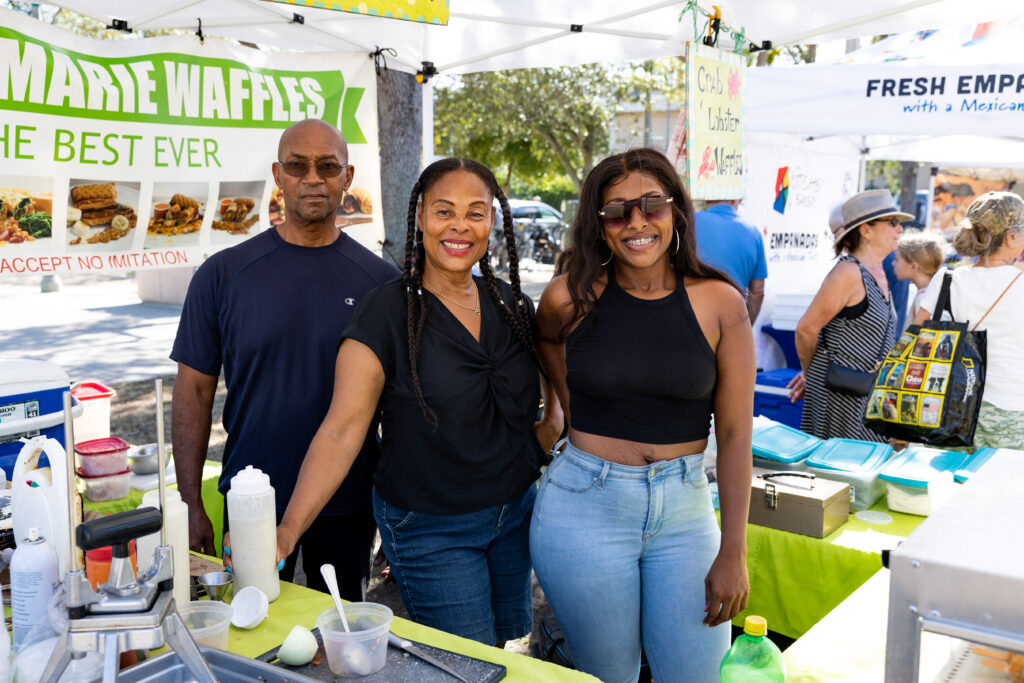 Florida Honey Bee
Delicious untreated raw local honey producer, Florida Honey Bees, was established in 2020 by lifelong Delray Beach resident, chef and entrepreneur, Iam Hedendal. His business started from a passion to help the S. Florida honey bee population flourish by providing professional hive removal services in order to rescue them from being exterminated by property owners and pest control companies. He has quickly grown to manage over 100 hives in the Downtown Delray Lake Ida Neighborhood and has provided over 400 hive removals to date! The fruits of his labor are his seasonal honey harvests for local restaurants and Delray Locals to enjoy. Bee sure to check out his beautiful one of a kind 100% beeswax flower vases that he calls his wax art, as well as the variety of honeys.
Seven Sea's
Owner Jose Montes is from Homestead, FL and brings delicious and fresh Ceviche, Conch Salad, Fish Dips, Guacamole, and crispy corn chips to enjoy!
Visit these amazing vendors at the next GreenMarket, Saturdays from 9am-2pm until May 20th at the front lawn of the Cornell Art Museum!