After only one month of being a volunteer at the Arts Warehouse, an assistant position opened up. According to Sixto "Lui" Acosta, 27, it was divine timing. Now working at the Arts Warehouse since mid-2018, his role has grown just as much as he has. 
"Last year's isolation taught me the importance of community, and not just online community. As humans, we are not built to bear the burden of survival alone; we need those around us to navigate the world at large," said Acosta, who finds the best part about his job is being integrated into the arts community and the Delray Beach community. "Working in this community has connected me with so many leaders, artists, entrepreneurs, etc. who all genuinely want to thrive together. And in my personal mission of growth, it is optimal to reach across the room for support rather than reaching up. Let us succeed together."
On one hand, he assists Grace, the Arts Warehouse manager, to ensure the Arts Warehouse runs smoothly. This includes social media/marketing to graphic/web design, to event scheduling/programing, and art curation/install. 
On the other hand, since the Arts Warehouse is a project of the Delray Beach Community Redevelopment Agency (CRA), he also helps with various tasks and projects as an operations assistant for the CRA. This role encompasses more graphic/web design, event programming and scheduling, participation in our community events/groundbreakings, and occasionally answering the office phone.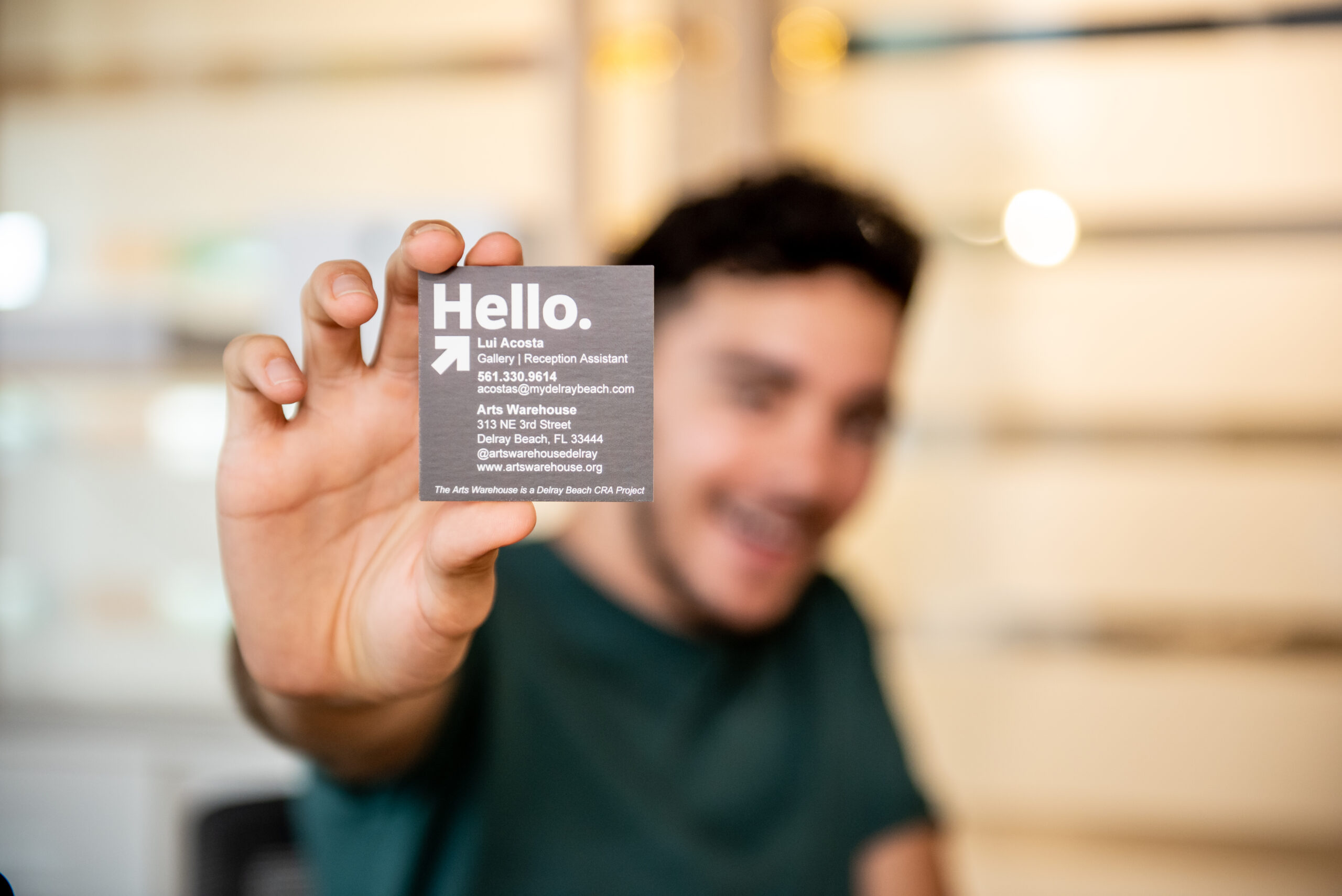 When he's not offering visitors tours of the Warehouse, or helping the team with tasks and more tasks to reach their goals, you'll find him researching for upcoming events and projects. He's currently working on finding non-local authors, educators and speakers for the next round of the Authors Speak series, and is committed to the goal of helping to use education as a way to dismantle and eradicate racism on a systemic level. 
"Being able to work on this project gave me a lot of pride," Acosta said. "Pride that I can directly assist others in being anti-racist as well as giving platform to those who need to be heard."
And need to be seen. A student of studio art sculpture, he knows how important art is to life and to people. He draws inspiration from the local artists who work at the Warehouse, saying that their drive inspires him to keep up with life. 
"I love seeing people work for what they want. That's the kind of energy I want around me," said Acosta, who loves taking care of his plant "babes" when he's not working. That energy is the same energy that brought him to the Warehouse! 
"I am originally from Pompano Beach, and chance takes me everywhere I need to go. I decided one day to get on my bicycle and go visit art museums and galleries," Acosta said. "Google told me about this place called the Cornell Museum, and so I went. I was charmed by how quaint Delray seemed to be. It was that same day that brought me to Arts Warehouse. I walked in and felt the energy of the space then put in a volunteer application the next week. Ain't that a love story?"
Now in his third year with the CRA, he is excited about the Agency's dedication to redevelopment under the helm of the new executive director, Renee. He feels that the team's efforts are bringing more projects to the table, more infrastructure rebuild, more grant money to allocate, and more CRA presence in the community, which is creating an overall bright future.
"What other organization is like us? It takes a whole team of people to run an arts organization, and we keep it cute with just Grace and I," said Acosta, stating that the Arts Warehouse is what makes Delray unique. "We pour so much into this place and our visitors can tell. It's why they keep coming back, making us a unique part to the experience of Delray Beach."